Suppressing Feelings of Compassion Makes People Feel Less Moral
It's normal to not always act on your sense of compassion -- for example, by walking past a beggar on the street without giving them any money. Maybe you want to save your money or avoid engaging with a homeless person. But even if suppressing compassion avoids these costs, it may carry a personal cost of its own, according to a new study published in Psychological Science, a journal of the Association for Psychological Science. After people suppress compassionate feelings, an experiment shows, they lose a bit of their commitment to morality.

[emphasis mine]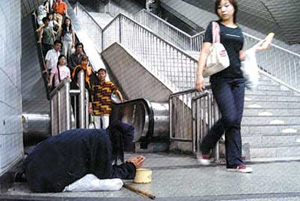 It seems as if tolerating begging is effectively an assault on the public's capacity for morality. It's a complication to the moral dilemma of caring for those unable to care for themselves. Begging can be, in some cases, a form of organized crime where children a deliberately crippled to increase their effectiveness as cash cows. In other societies it's the only socially acceptable way for the disabled to survive. In times of disaster, public or private, it's the moral survival tactic of last resort, the other option being crime. I don't have any easy answers.
When people feel helpless and overwhelmed, facing the victims of war for example, this may be a mechanism by which survivors become hardened and lose their moral anchor. This fits with what Chris Hedges describes about how war changes us in War is a Force That Gives Us Meaning. He says,
War exposes the capacity for evil that lurks just below the surface within all of us.