The New Abolitionists: Global Warming Is The Great Moral Crisis Of ...
The New Abolitionists: Global warming is the great moral crisis of ...
Joe Romm and Wen Stephenson challenge us morally, comparing the abolition of slavery to today's struggle against Climate Destabilization.
Winston writes: Romm quotes Andrew Winston of the Guardian.
What we want to abolish is our outmoded, broken economic and energy systems that threaten our survival, in part because they put no value on human and ecosystem inputs and impacts.

If slavery was the great human, moral crisis of the 19th century, then global warming is the great human, moral crisis of our own time.
Slavery was a legal institution integral to the global economy.
… far from being admired as the morally fearless heroes we remember them as today, they were derided and reviled by their contemporaries. The word "abolitionism" was most often used as "a slander meant to convey what many Americans considered its essential qualities: unreason, impatience, implacability.

Bob Massie of Cambridge-based New Economics Institute, …, compared the climate movement to the anti-slavery struggle and suggested that addressing climate change would require a political and cultural "paradigm shift" of a similar order.

At this late hour in the climate crisis, with the clock ticking down on civilization, to be serious about climate change — based, mind you, on what science and not ideology prescribes — is to be radical.

The climate crisis "is analogous to the issue of slavery faced by Abraham Lincoln," James Hansen, NASA's top climatologist and a leading advocate (who was among those arrested at the White House protesting KeystoneXL),  told The Guardian in December 2009 in the run-up to Copenhagen. "On those kind of issues you cannot compromise. You can't say let's reduce slavery, let's find a compromise and reduce it 50 percent or reduce it 40 percent."

Climate-movement elder statesman Gus Speth, advisor to two presidents, writes in 2012's  America the Possible that a transformative progressive movement addressing the climate crisis "must capture the spirit of Frederick Douglass," the escaped slave who became the greatest of abolitionist leaders,… [emphasis mine]
Both authors cite Tim DeChristopher as a New Abolitionist.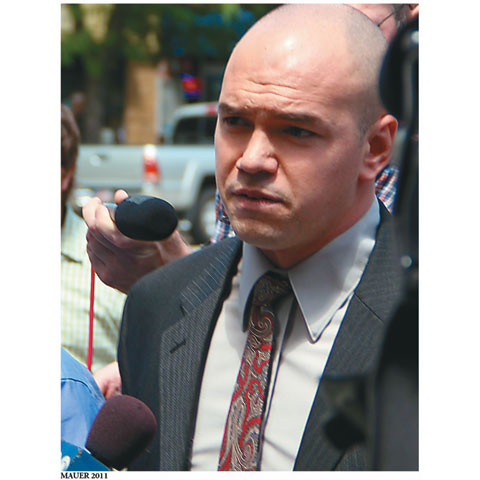 … a  Q&A in the socialist UK magazine Red Pepper. "We are at a time in our movement," DeChristopher said there, "where we need to be honest" — that it's "too late to stop a climate crisis," and that averting unthinkable catastrophe will now require deep, urgent, transformative changes. "We should not try and hide our vision about what we want to change, of the healthy, just world that we wish to create. We are not looking for small shifts: we want a radical overhaul of our economy and society."

… DeChristopher tells of the "shattering" moment in March 2008 when he met climate scientist Terry Root, a lead IPCC author, at a symposium at the University of Utah:

She presented all the IPCC data, and I went up to her afterwards and said, "That graph that you showed, with the possible emission scenarios in the twenty-first century? It looked like the best case was that carbon peaked around 2030 and started coming back down." She said, "Yeah, that's right." And I said, "But didn't the report that you guys just put out say that if we didn't peak by 2015 and then start coming back down that we were pretty much all screwed, and we wouldn't even recognize the planet?" And she said, "Yeah, that's right." And I said: "So, what am I missing? It seems like you guys are saying there's no way we can make it." And she said, "You're not missing anything. There are things we could have done in the '80s, there are some things we could have done in the '90s — but it's probably too late to avoid any of the worst-case scenarios that we're talking about." And she literally put her hand on my shoulder and said, "I'm sorry my generation failed yours."

"Once I realized that there was no hope in any sort of normal future," DeChristopher tells Tempest Williams, "I realized that I have absolutely nothing to lose by fighting back."


… it should go without saying that fossil fuels and their effects on the atmosphere cannot simply be abolished at the stroke of a pen.

"The contribution of the abolitionists was to make thinkable what had once been unthinkable, namely, black freedom," Delbanco writes…

… building the sort of movement that can "fight back" — and create the conditions in which we can build that better world — will require …

The willingness to not be safe.

"You can't move the center from the center," DeChristopher goes on to say near the end of that interview (referring to Naomi Klein's often-quoted statement that the movement's job is to "move the center"). DeChristopher adds: "If you want to shift the balance — if you want to tilt that scale — you have to go to the edge and push. You have to go beyond what people consider to be reasonable, and push." [emphasis mine]