In a one man theatrical event, "Ten Billion", Stephen Emmott tackles making sense of the complex situation facing us today. Instead of the narrow gaze typical of academic specialization and media coverage of discrete pieces of news, he presents overpopulation and environment as a whole complex system. 
London One-Man Play Tackles Overpopulation
Ten Billion ...
... refers to the number of humans expected to be crowded onto the planet by the middle of the century.

... the changes required of humans to fix things are of a scale so enormous that many of us prefer not to think about the problem at all ...

The challenge Emmott set himself was this: is it possible to give a talk that captures a whole boatload of scientific material, that synthesizes research from a range of different disciplines, but do it in just an hour, and in a language and form that would be accessible for a lay audience, all without it being dumbed down?

Emmott performs his thought experiment by looking at various global systems and seeing how they all connect, and how humans have affected them—water, land, energy, climate.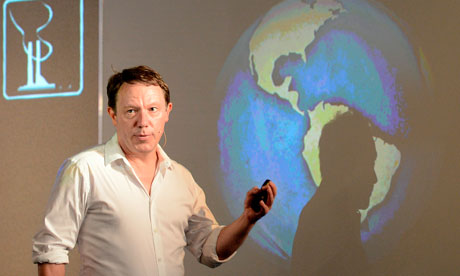 Image from
Climate change: how theatre delivered a dramatic warning about the ...
see also
Microsoft's Stephen Emmott Sounds Alarm On Population Surge In Thea...
But it's not yet available on the internet.