The words we use and the images they evoke shape public comprehension of Catastrophic Climate Destabilization's immanence. Here are a few terms from the past few days. It's a tiny beginning.
 'catastrophic climate destabilization'
from Why Informing Younger Generations About Climate Change is Key
cataclysmic climate change
climate change ''departure'' - that's when temperatures move permanently outside the limits of historic precedents, ...
from Climate change ship heads into uncharted waters
image source
sea level rise 'Locking In'
from Sea Level Rise 'Locking In' Quickly, Cities Threatened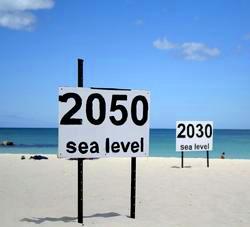 image source