This was prompted by a recent comment thread on this group.
History in wikipedia.org  "Black Indians in the United States".  I know there are people who hate wikipedia but it looks like a good place to begin to learn.
The interactions between Native Americans and enslaved Africans and African Americans go back to the beginnings of the slave system, and continue to this day.  Not many generalizations can be made.  Both were enslaved.  In some cases, Native Americans were part of the escape route and freedom for Black slaves.  In other cases, Native Americans held slaves.  There were intermarriages, without stigma.  Black soldiers fought in the US war against the Indians.  We should also remember that there were Black slaveowners as well, but almost always, the people who were owned, were Black.
More recently, the Cherokee nation had a controversy when they excluded the freedmen, descendants of their ancestor's slaves, from Cherokee citizenship.  About 25,000 people are affected by that exclusion.  There are some hard feelings about that action (duh).  Which to me is sort of like if Alabama excluded the descendants of slaves from Alabama citizenship, but I'm not expert (another discussion on this group).
from blacknativejewel also the book by William Katz.  from the review on that link (something more for me to read),  the dramatic story of thousands of African Americans who joined Native Americans and for more than five hundred years fought the march of European civilization. The Black Seminoles of Florida fought the United States Army, Navy and Marines to a standstill for 42 years before migrating to the Oklahoma Indian Territory.
fromcantonasylumforinsaneindians.org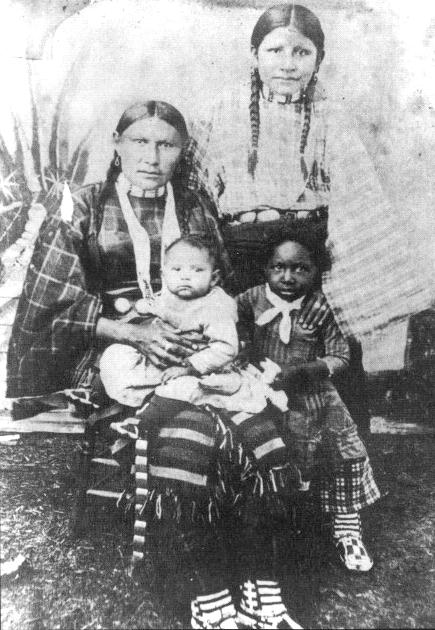 Black Indians of New Orleans
This is not meant to be comprehensive.  The history is long and there are many interwoven threads in this fabric.  I am not a historian, and autodidactic learning is an ongoing process.  This is an ethnic history as varied as any, anywhere.