In Why Do People Believe Stupid Stuff Even When They're Confronted Wit...
David McRaney describes the backfire effect.
... a correction can further push readers away from the facts if the issue at hand is close to the heart. ... corrections tended to increase the strength of the participants' misconceptions if those corrections contradicted their ideologies. People on opposing sides of the political spectrum read the same articles and then the same corrections, and when new evidence was interpreted as threatening to their beliefs, they doubled down. The corrections backfired. 
Apparently we accept without question "narrative scripts, stories that tell you what you want to hear, stories which confirm your beliefs and give you permission to continue feeling as you already do." But we pay an inordinate amount of attention to anything that challenges already held beliefs.
One hypothesis as to why this and the backfire effect happens is that you spend much more time considering information you disagree with than you do information you accept. Information which lines up with what you already believe passes through the mind like a vapor, but when you come across something which threatens your beliefs, something which conflicts with your preconceived notions of how the world works, you seize up and take notice. Some psychologists speculate there is an evolutionary explanation. Your ancestors paid more attention and spent more time thinking about negative stimuli than positive because bad things required a response. Those who failed to address negative stimuli failed to keep breathing.

 

The cognitive dissonance locks up the gears of your mind until you deal with it. In the process you form more neural connections, build new memories and put out effort – once you finally move on, your original convictions are stronger than ever.
McRaney talks as if this cognitive bias dooms us  because "the Internet unchained its potential, elevated its expression." Is he right? Merely by participating in Atheist Nexus instead of a wider social network, I limit myself. Search engines are tailoring the news we get, to our interests. *sigh* Are we spiraling down an ever-narrowing information age rabbit hole of self-destruction?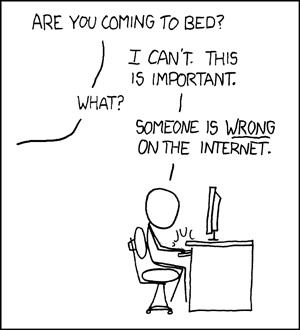 (hotlinked from the article)