Cliteracy 101: Artist Sophia Wallace Wants You To Know The Truth Ab...
The clitoris, described as the only human body part that exists solely for pleasure, is not merely a little "button" hidden between a woman's legs, but rather a large, mostly internal organ many people don't know about, Wallace explains. [emphasis mine]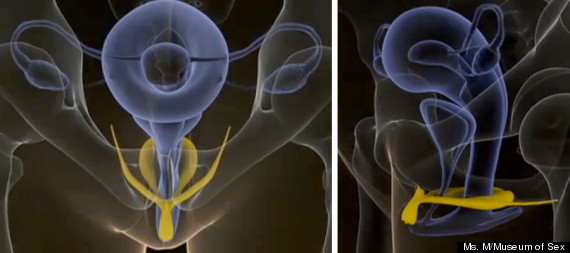 According to a 2011 post by Museum of Sex blogger Ms. M, the internal clitoris (highlighted in yellow in the images above) is a complex erectile structure consisting of two corpora cavernosa (that are said to wrap around the vagina when erect), two crura (erectile bodies that branch out from the clitoral body), clitoral vestibules or bulbs, and the clitoral glans (the part that you can see).
In 1998, Australian urologist Helen O'Connell published a paper in the Journal of Urology describing the sheer scope and size of the clitoris. She wrote that the unerect clitoris, most of which is subterranean, could be up to 9 centimeters long -- longer, as some have described it, than an unerect penis.

Last year, during her tenure in the Art & Law Residency, Wallace started work on a multi-media project that she hoped would serve to challenge these misconceptions and to lift the veil on this enduring ignorance about the female body.

Aptly entitled "Cliteracy," the project, which is ongoing, includes Wallace's "100 Laws of Cliteracy," street art about the organ...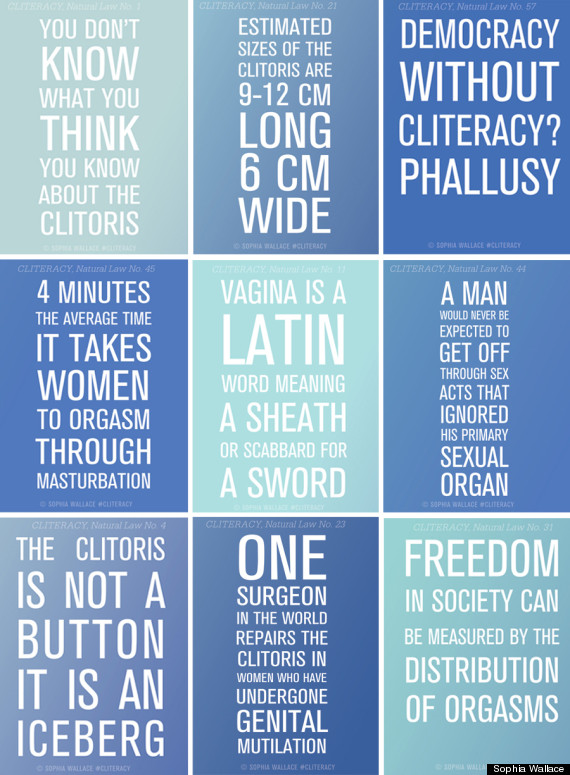 I never realized that the clitoris has both  external and internal parts.