Fungal pandemics have hit frogs and bats. Snakes are now succumbing too. Fungal disease poses global threat to snakes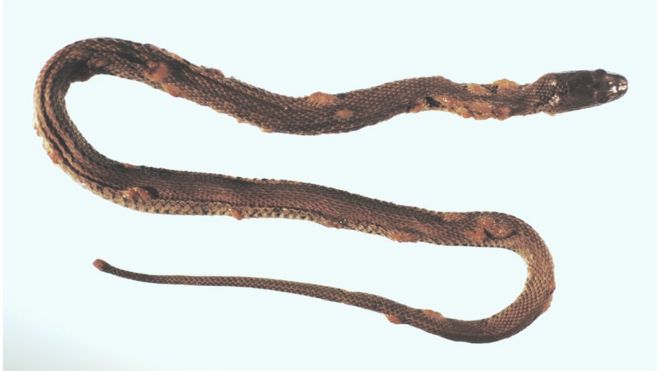 Fungal afflictions have had devastating impacts on a number of different species in recent years.

 

Chytrid fungus

 

has reduced frog populations all around the world, while white nose syndrome has

 

killed millions of bats

 

in the US.

Now researchers have evidence of what's termed snake fungal disease (SFD) in a number of populations in Europe and the US.

The disease forms lesions on the snake's skin, and can spread quickly and cover a large part of the body.

"They start getting these blisters and then all kinds of secondary infections from it, it can kill snakes quite rapidly actually, I've seen them go down in a matter of a few days," lead author Dr Frank Burbrink, ...

To work out the possible extent of the threat, the scientists built a model based on the evolutionary history, ecology and physical traits of known infected species.

They looked for associations that could be used to predict which species might be susceptible - the results showed that all 98 groups of snakes in the eastern US could be at risk and the epidemic might extend globally. [emphasis mine]
I had no idea fungi were such an existential threat to wildlife and that it's escalating.
A Rise in Fungal Diseases is Taking Growing Toll on Wildlife
Matthew Fisher, an epidemiologist at Imperial College in London. Fisher and his colleagues calculate that fungi have caused more than 80 percent of known disease-driven animal extinctions. (Viruses, by comparison, are responsible for only 1 percent.) The vast majority of these fungi-driven extinctions have happened in the past 20 years.

Climate change may also be contributing to the spread of fungal diseases in wildlife populations.

Arturo Casadevall, a professor at the Albert Einstein College of Medicine, gained notoriety a few years ago for suggesting that warm-bloodedness — an energy-expensive life strategy — protected early mammals from heat-intolerant fungi and led to their global rise. But as average global temperatures ratchet up, Casadevall hypothesizes, fungi may adapt to warmer temperatures and mammals may lose their body-temperature advantage.

 "Fungal diseases really haven't been on our radar screen," says Casadevall, "but as you raise the temperature, I think they're going to become completely formidable." [emphasis mine]
Does this mean we're at risk? Probably.
Fungal Diseases Are on the Rise -- Is Environmental Change to Blame?
Invasive fungal infections -- the really bad kind that infect the heart, blood, brain, bones and other internal organs -- kill about 1.5 million people worldwide every year. ... at least as many people die from the top 10 invasive fungal diseases as from tuberculosis or malaria. Perfect and other experts say these deadly diseases are on the rise. Some fungal pathogens that infect humans are emerging in parts of the world where they've never been found.