Can you imagine the idea of a BLACK MAN actually trying to tell these WHITE Senators how to do their jobs?
OK, maybe it's not so difficult for you, but it seems outrageous to Cons,
Faux News
, and the GOP. While GOP appeals of "
start from scratch
," and going, "
step by step
," with the HCR bill were ignored, what really seems to inflame many of the RWL (Right Wing Lunatics) is the fact that Barack Hussein Obama thinks he has a right to speak as if he's equal, or gosh-darnit, even superior to these white Republican Senators.
Of all the hats President Obama tried on at Thursday's seven-and-a-half-hour health care summit, it appeared the one he was most comfortable wearing was that of the prickly professor.
How dare the President of the United States, commonly referred to as the Most Powerful Man in the World, talk to these people, correct their factual errors, or call for less campaigning and more substance. How dare he!
Facts Video
Campaigning Video
The Party of No isn't named so simply because of their obstructions in the House and in the Senate. They've earned that title because if it were up to the GOP there would be NO social services of any kind, NO civil rights, NO labor laws, NO minimum wage, NO regulation of private enterprises, NO freedom without money to back it up, NO law without money to back it up, NO rights without money to back it up, NO America unless it was renamed America, Inc.
Here's what the GOP really thinks of Obama: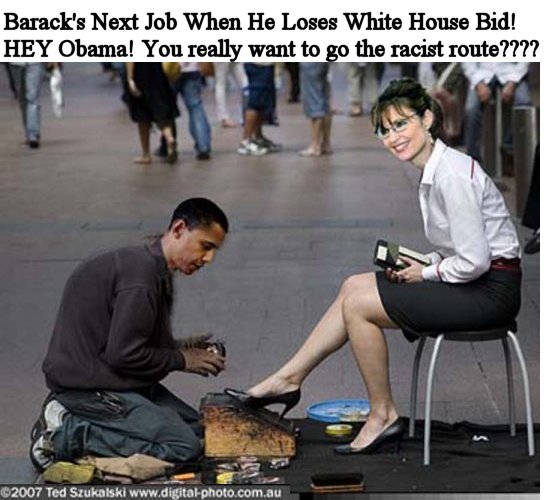 And who could forget the music to play at all your Klan rallies:
Barack the Magic Negro Video
No, Mr. President the Republicans aren't interested in bipartisanship. They're not interested in making America a better place for ALL Americans. What they're interested in is taking America back to the 19th century; back to when minorities 'knew their place', women stayed in the kitchen, the middle and lower class had absolutely no say in government, and if you were White and Rich than you were above the law.