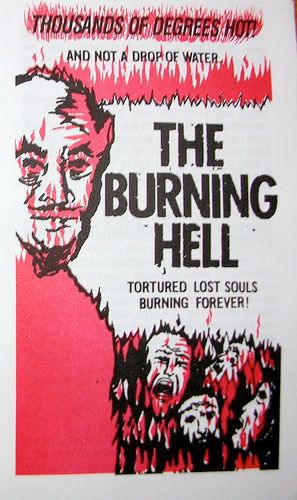 Estus Pirkle presents the REAL reason to believe: because God is some kind of horrible monster who created a system where people who go to the wrong Christian church end up burning and have constant diarrhea due to intestinal parasites--which is interesting because there are already people in the "wrong church" who are already dying of constant diarrhea. So maybe those hippies who said "hell is here on earth" were actually right, and old Estus escaped with his intestines intact. Or maybe he went to some other religion's Hell. I shudder to think.
Watch "The Burning Hell" here:
http://thefaithfulpenguin.blogspot.com/2009/06/burning-hell-by-estu...
Playlist
Hell 1
Alleee1
Jenks "Tex" Carman * Hillbilly Hula
Ready Teddy * Tutti Frutti
Densopep
Hell 2
John Shakespeare * Bell Hop
DJ Le Clown * Superkelt
Hell 3
Goose Culbreath * Granny
BOB Sex
Hell 4
Jonathan Winters * A Violent Elderly Person
Hell 5
Enoch Light and the Light Brigade * Bidin' My Time
Bobwell
Hell 6
Pimpdaddy Supreme * Pick Up the Phone
Hell 7
John Buzon Trio * Mr. Ghost Goes to Town
Wayne Butane
Hell 8
The Bathroom Song
Hell 9
Les Baxter * Rachmaninov Prelude in C Minor
Faster Pussycat
Hell 10
LeGarde Twins * Blue Canadian Rockies
RIAA * Hideaway Moog Shuffle
Hell 11
Donny Lee * Skunk Ape

Download